Subscription Databases
Local History Collection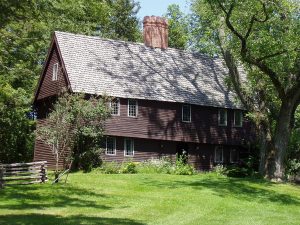 The library's local history reference collection is shelved in the general reference area and can be accessed during open library hours. The library also maintains a vertical file of clippings, which is not indexed online.
Frequently Used Print Resources
(All of these titles can also be read online – see links from the online catalog for "Electronic Access")
The History of Essex County, Massachusetts: with biographical sketches of many of its pioneers and prominent men / Hamilton D. Hurd (1888):
History of Topsfield Massachusetts / George Francis Dow (1940): R 974.45 DOW
Houses and Buildings of Topsfield, Massachusetts / Charles Lawrence Bond (1989 update): R 974.45 BOND
Historical Collections of the Topsfield Historical Society Vols. I—XXXIV: R 974.45 TOPSFIELD
The library has reference and circulating copies of all volumes, and reference copies of the index. All volumes have been digitized – see our individual listing.
Vital Records of Topsfield, Massachusetts
Other Local Resources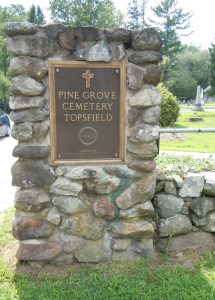 Local newspapers: a list of Topsfield-area papers, and how to access the archives.
Topsfield's Annual Reports: the library has print reports going back to 1827. The library maintains an individual listing of reports which are available online.
Topsfield cemeteries: the library has binders with listings for the Boston Street, Lake Family, Pine Grove, and South Side Cemeteries. The Massachusetts Gravestones Photo Project includes images from the Boston Street and Pine Grove cemeteries.
The Topsfield Times: the library's local history wiki, a work-in-progress.
Topsfield High School yearbooks: the following volumes are held by the Topsfield Historical Society, but are not available online: 1945; 1948-1959
Masconomet Regional High School yearbooks (1960-current) are owned by Middleton's Flint Public Library. Most can be viewed online at the Internet Archive.
Southern Essex District Registry of Deeds: has digitized records dating back to 1640.
Other Local History Collections and Organizations: