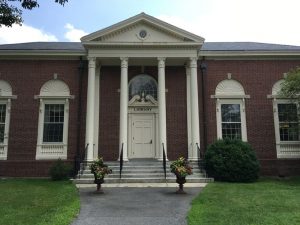 The Topsfield Town Library can trace its origins to the first library that the Topsfield Library Society founded in 1794. Formed by 80 residents who paid 20 shillings each, the first 68 volumes were purchased. The books were stored at the home of the current librarian, usually the pastor of the church or a physician. Books were circulated the last Monday of every month. The original book case and its volumes are on display in the periodical room of the Library.
In 1874 the town realized that public need could be served by establishing a free town library. Several established groups added their collections to the 1794 book case and money was raised to purchase additional volumes. In 1875, the Library found its home in the new town hall and was open Saturdays only.
In 1912, space issues in the library led the town to purchase a parcel of land at South Common. A young Boston architect, Harold Field Kellogg, drew up plans for a library to be built at the site.
Donations from George Gould and David Pingree (made in 1921 and 1932 respectively) were crucial in getting construction underway. The town also secured funding under the 1933 National Recovery Act (WPA). Once approval for the building was in place, and minor revisions made to Kellogg's 1912 plans, the Library was built. The new building opened to the public on February 16, 1935.
The town's population continued to grow, and needs changed. The number of new materials available for libraries also increased. By 1966, a number of changes were necessary, including moving the children's room to the basement to make room for more materials. Space was shrinking while demand was increasing. At this time, the Friends of the Library were formed with the mission of supplementing Library services and programs.
In 1988, the Library received exciting, surprising news. The will of George Gould, an original contributor to the 1935 building, was revealed. Mr. Gould had drawn up his will in 1921, but his bequest to the library was not revealed until his last living heir, Rosamond Gould Childs, died at 100 years of age. Library Trustees were notified that the bequest was significant. Gould's will expressed "his strong conviction that the Topsfield Town Library should not only be a repository of the printed word but also a cultural center promoting the aesthetic in the lives of Topsfield residents."
Topsfield's population continued to increase and the building was not ADA compliant.
In 1996, the Library Trustees choose the architecture firm Tappé from Boston. A state grant was secured and the Gould fund was used to pay construction costs.  Groundbreaking day came in November 1997. Many residents helped staff move 7,000 paper bags of books to and from the Library's temporary location. The Library reopened on February 27, 1999 amid much celebration.