Have a question?
Ask for assistance with your research, finding something to read, using library resources, home delivery- anything. We are here to help.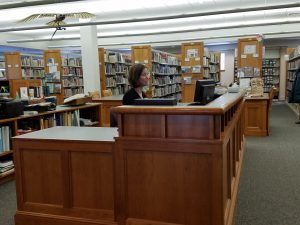 In person: Reference desk, 2nd floor
Phone:  978-887-1528, ext. 200
E-mail:  ask@topsfieldlibrary.org
Please be aware that the 2nd floor closes 10 minutes before the library's closing time.
Interlibrary Loan / Requesting
You may request items from home by using our online catalog. If your item is not in the Topsfield library, broaden your search to the Merrimack Valley Library Consortium. If you can't find it there, search libraries across the state by using the Commonwealth Catalog. If you still can't find it, contact a reference librarian. We can request an item from another state by using WorldCat.
Highlighted Resources on the 2nd floor:
Consumer Information
Income tax forms (can also be printed from home at IRS.gov or the MA Dept. of Revenue website)
Investment evaluation tools
Town of Topsfield annual reports
Local Links