What is Science Fiction?
Science Fiction is a type of speculative fiction set in worlds based on plausible scientific theories. The genre traditionally describes future worlds and technologies, but past settings have grown in popularity (alternatie histories, steampunk). While there is some crossover with fantasy, science — rather than magic — drives the stories. (Source: Novelist)
Dystopian and Post-Apocalyptic Science Fiction
Afrofuturism and Afrofantasy
Classics
What is Fantasy?
Fantasy fiction consists of stories that take place in other worlds — sometimes very different from our own and occasionally parallel — infused with magical, paranormal, or otherwise unexplainable elements. Unlike science fiction, scientific means cannot explain these elements. They live in the realm of the fantastic, often drawing upon folklore, mythology, and ancient history for inspiration. (Source: Novelist)
Popular Series
More Fantasy Novels
Spotlight: Becky Chambers
Award-winning American science fiction author Becky Chambers writes far-future space opera that explores themes of humanity and interpersonal relations with heart and humor. And though the universe she's built is not always a friendly place, her characters (including a variety of richly imagined aliens), each of whom has their own personal struggles, strive to connect and work together for the greater good.
A Psalm for the Wild-Built by Becky Chambers
It's been centuries since the robots of Panga gained self-awareness and laid down their tools; centuries since they wandered, en masse, into the wilderness, never to be seen again; centuries since they faded into myth and urban legend. One day, the life of a tea monk is upended by the arrival of a robot, there to honor the old promise of checking in. The robot cannot go backuntil the question of "what do people need?" is answered. But the answer to that question depends on who you ask, and how. They're going to need to ask it a lot. Becky Chambers's new series asks: in a world where people have what they want, does having more matter? (Book 1 of the Monk & Robot series)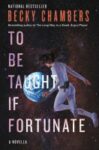 To Be Taught, If Fortunate by Becky Chambers
While on a mission to ecologically survey four habitable worlds, Ariadne O'Neill and a team of explorers, shifting through space and time, discover that the culture back on Earth has been transformed and must make a difficult decision.
The Long Way to a Small, Angry Planet by Becky Chambers
Joining the crew of the aging Wayfarer, a patched-up ship that has seen better days, loner Rosemary Harper must unexpectedly risk her life when they are offered the job of a lifetime, which teaches her valuable lessons about love and trust, and that having a family isn't the worst thing in the universe. (Book 1 of the Wayfarer series)